From the Ferry Terminal
1. Head west on Killebrew Lake Rd toward Orcas Hill Rd go 0.2 mi
2. Continue onto Orcas Rd, About 5 mins, go 3.3 mi
3. Keep right to stay on Orcas Rd, About 3 mins, go 1.7 mi
4. Keep left to stay on Orcas Rd, About 5 mins, go 2.9 mi
5. Turn right onto Main St, About 57 secs, go 0.4 mi
6. Continue onto Crescent Beach Dr, About 2 mins, go 0.9 mi
7. Turn right onto Olga Rd About 6 mins, go 4.5 mi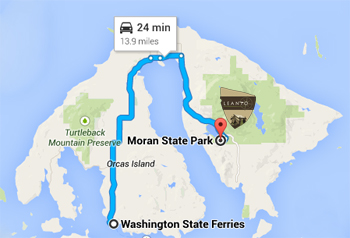 Once you enter the State Park:
1. Go through the arch and pass the ranger station (you're a glamper, not a camper so there is no need to stop at the registration booth!)
2. Continue down the same road, you'll see a day use area with the beach and lots of parking on your left and right; continue straight through that section
3. Drive along the lake with the water on your right. The road will bend to the left and to your right you'll see a pull off that says 'South End Camp'
4. Take a right and head towards 'South End Camp'
5. Continue down the road and you'll see a park building on your right and a sign saying campers only beyond this point so keep going!
After you wrap around the winding entrance road, you'll see our parking spots on the left hand side in front of the kitchen shelter. Go ahead and park in the spot with your site number on it and we'll be there to welcome you to camp!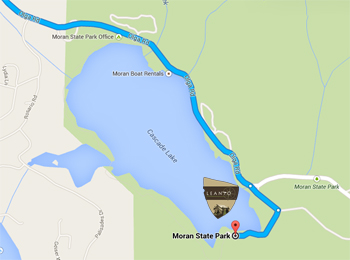 From the West or East:  Take I-84 to Exit 62 and follow the signs!
Westcliff Lodge is about one hour from Portland, OR and about three hours from Walla Walla, WA.