If you've been to Moran State Park on Orcas Island, chances are really good that you've also been to the top of Mount Constitution.  If you haven't been to the top, then you should book your 2017 glamping experience in Moran State Park with us right away so you can get a good night's rest before hiking up to the summit!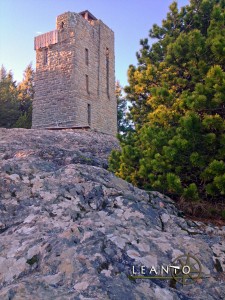 Not into hiking?  You can also drive to the tower if you'd rather.  Regardless of the way that you get up the mountain, there's a tremendous view from the summit that'll blow you away.  You'll also encounter a medieval watch tower that adds something special to the summit.
That's right, sitting at the highest point in all of the San Juan Islands is a really neat observation tower that, in addition to being just plain cool, offers some interpretive exhibits full of engaging insight into the history of Moran State Park as well as the tower itself.
Ellsworth Storey designed this tower and Civilian Conservation Corps built it out back in the 1930's.  Storey moved to Seattle in 1903 and became known for a style that celebrated the Pacific Northwest as well as National and State Parks.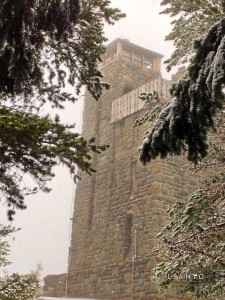 The Observation Tower on Mount Constitution became part of a sort of 'Parks Portfolio' for Storey and is the literal 'high point' for all of the hard work the CCC poured into the development of Moran State Park between 1933 and 1941.
Not familiar with the CCC?  Have a look at an introduction here.  In short, the CCC was President Franklin Roosevelt's answer to the big economic and environmental challenges facing America post-depression.  The CCC accomplished a tremendous number of projects in just under a decade (including planting 3 million trees) and are the group we have to thank for creating Moran State Park as we know it today.
While we don't want to spoil the surprise of seeing the mountain-top tower for the first time on you, we did want to share the shots we've taken over the years so we hope that you've enjoyed them.  If you'd also like to see some detailed shots of our glamping sites, have a look at our Moran State Park glamping page here.
We sure hope that we get the chance to welcome you to Moran State park this summer and that you get the chance to climb Mount Constitution and the tower for yourself!