Sure, you can really get away from it all by taking a hike straight into the wilderness from your Moran State Park glamping site.  But what if you wanted to hike to a fun spot where lots of folks hang out?  Could you get back to anything by hiking from your glamping site?  Yes!
Note:  We're calling all of these 'hikes' because the shortest option is just under a mile.  When packing for your outing remember that what goes out with you has got to also come back!
Destination #1:  Cascade Lake Day Use Beach
The Day Use Beach, located on Cascade Lake, is a hub of activity and has a little something for everyone.  There are two main routes to hike to the day use beach and plenty of reasons to head that direction.
Water:
The public Day Use Beach is perfect if you'd like to hang-out all day alongside the lake soaking in the sunshine, splashing around in swim zone, or renting one of the rowboats, canoes, paddleboats or SUP's for an few hours.  Please keep in mind that there is no lifeguard assigned to the swimming area!
Provisions:
The snack shack at the beach operates seasonally like the boat rentals and is a good spot for an ice cream cone, a panini or a coffee.
WiFi:
While there's no WiFi at our glamping sites, rumor has it that there is WiFi available at the beach broadcasting from the snack shack.  Of course, the signal won't be off the charts and, just like the rest of the Day Use Beach offerings, the availability is seasonal!
Trail Map:
(0.9 miles one-way) The 'Red Line' trail will get you to the Day Use Beach in about .9 miles but please keep in mind that most if this route is along the lakeshore and road with a limited shoulder so it may not be ideal for large groups or small children.
(1.0 miles one-way) The 'Green Line' trail is just a smidge longer than the red option at one full mile.  This route is through a nice forest with elevated and filtered views of Cascade Lake.  Though the distance isn't that much more when compared to the 'Red Line,' you'll want to allow a little extra time (about 5 – 10 minutes) to account for the rolling terrain and switchbacks throughout the hilly zone.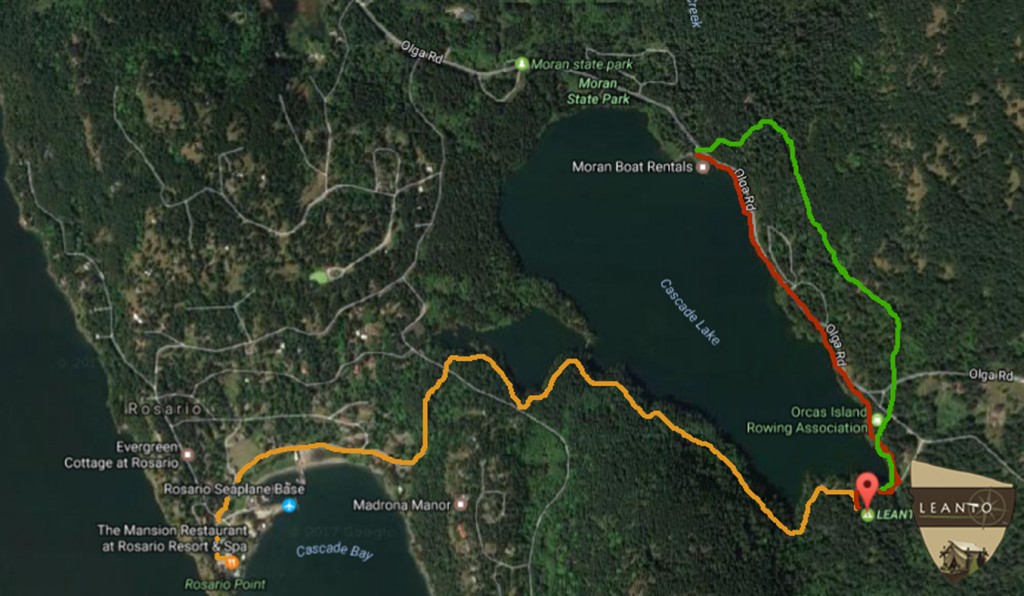 Destination #2:  Rosario Resort
If you're looking to get to a little more than a snack shack on foot then you'll want to head the opposite direction of the Day Use Beach and set your sights on Rosario Resort.  While there's just one trail to Rosario and the journey is a bit more arduous than the route to the Day Use Beach, the rewards are plentiful.
Food:
Rosario Resort offers three different dining outlets – each with a distinct vibe.  The Cascade Bay Grill is a fun spot with a big outdoor deck perfect for summer afternoons and evenings.  The Lounge is a lively indoor spot with a fireplace and overstuffed couches that would be ideal on a cloudy or chilly day.  And, while the Dining Room at Rosario offers a great dining experience, you might want to drive instead of hike if you're interested in that option.
Whale Watch:
Deer Harbor Charters will depart daily from Rosario Resort & Spa June-September twice a day – once at 11:00am and again 3:00pm.  Each whale watching tour is about 3 – 4 hours so you might enjoy hiking to and from your glamping site to the dock.
Stock Up:
The Cascade Bay Store is a great spot for grabbing small items and snacks to keep your glamping adventure going strong.
Trail Map:
(1.80 miles one-way) The 'Orange Line' trail will take you along the back side of Cascade Lake and then down a steep descent to the Resort.  Again, as you're calculating this journey, please keep in mind that a steep descent turns into a steep ascent when you're ready to head back to camp!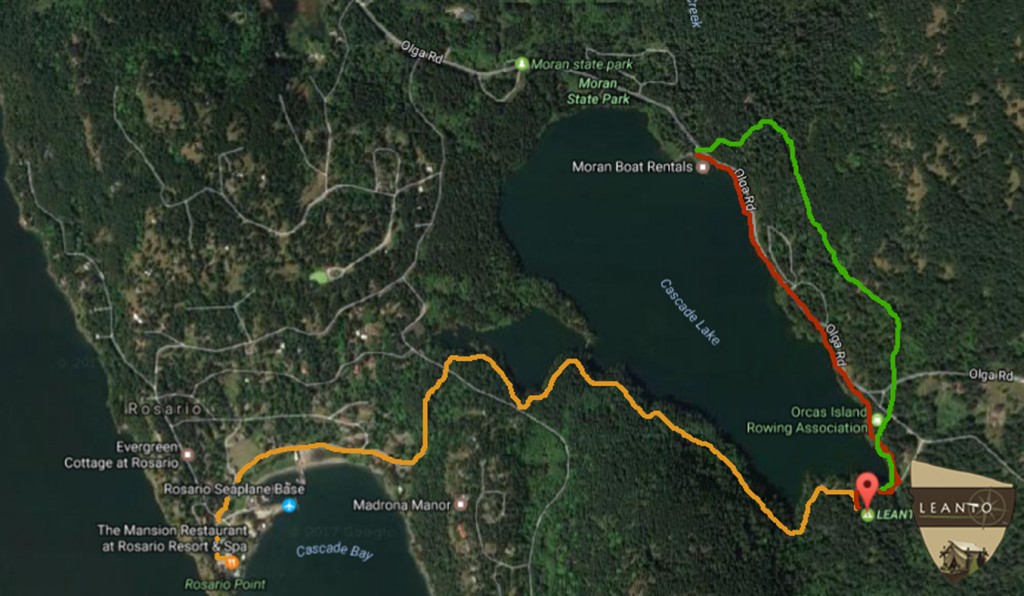 Of course, hiking isn't your only option for nearby services to get what you need.  Swing by this page to get an idea of the other options you'll have for dining and stocking up that are just a short drive away.
If you haven't booked your glamping tent yet, we suggest that you do that right away and then start planning the rest of your glamping adventure and outings.  As always, if you need any help planning, please don't hesitate to give us a ring or drop us a line!