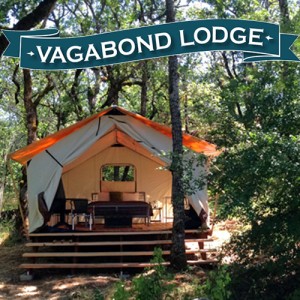 As you're cruising east on highway 84 from Portland to Hood River, Oregon, you'll be treated to amazing views and plenty of reasons to pull off the road and explore. Multnomah Falls is a must-see when you're glamping at Camp Vagabond Lodge in Hood River, OR.
Multnomah Falls is actually two waterfalls: the upper falls plunges 542 feet and the lower falls drop 69 feet. These drops combined make Multnomah Falls the highest in the state of Oregon and second highest waterfall in the nation!
Where does all of that water come from? Underground springs from Larch Mountain.  Of course, spring snowmelt supercharges the falls and really amps up the flow and roar!  Multnomah Falls also lets you take a peek into the history of the Columbia River Gorge as you can see some interesting rock layers exposed by extreme floods over the past few centuries.
Back in the day, Simon Benson donated the land that the falls sit upon, and funded construction of the Benson Bridge. The bridge will let you cross over the lower falls and continue on a paved trail viewing platform at the top.  If you're looking for a longer adventure, Multnomah Falls offers a popular 1.1-mile trek to the top.  The Multnomah Falls trail also hooks up with several other gorge trails so you've got plenty of hiking opportunities that will match your schedule and skill level.
Don't know which trail to take?  No sweat – there's info about the different hiking trails accessed from the Multnomah Falls Trail at the Forest Service Interpretive center right in the big lodge in the parking area!
Get glamping at Camp Vagabond Lodge and go take a hike!