Campfires are a BIG part of any camping or glamping vacation.  A good campfire can be critical to a great camp meal, an amazing way to stay nice and cozy warm on cool camping nights and, of course, the perfect way to begin and end the day with coffee and s'mores respectively.
But how do you get that perfect campfire?  With our campfire kit of course!  Campfire kits are one of our most popular add-ons and something that we take a lot of pride in preparing for you.  If you're thinking that our campfire kits are just another bundle of firewood, then you better keep reading.  Our campfire kits are hand-picked, hand-split and hand-packed to help you have one of the best campfires ever!
Our campfire kits include the following: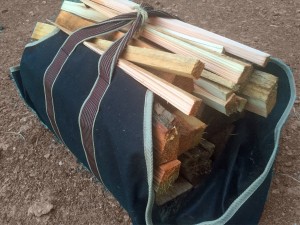 Newspaper, all natural fatwood fire starters and a BBQ lighter
A handful each of kindling, medium size firewood pieces and large firewood logs
And…roasting sticks!
All of these pieces combine to make one great campfire kit that offers about 2-3 hours of campfire fun for the whole family.  Each kit costs $9 and will be waiting for you at your Moran State Park glamping tent if you add it to your Glamping adventure before you arrive.
Haven't got a Glamping tent booked just yet?  Yikes!  Our season is well underway so go ahead and check our booking calendar as soon as you can to see if there's a Glamping site in Moran State Park available for you this season!